About The Bowl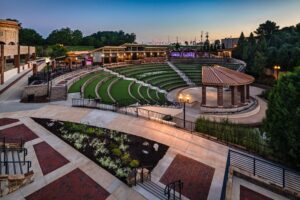 Sugar Hill has earned a reputation for bringing a variety of musical genres that appeal to every audience, young and old to The Bowl and the Eagle Theatre through our concert series, Sugar Hill Live On Stage. Located in Downtown Sugar Hill, concert goers have all the amenities the city has to offer within a few footsteps including restaurants, shops, a history museum, art gallery, The Eagle Theatre and more.
Public parking can be found on West Broad St., Church St., at Sugar Hill Church, and the E Center Parking garage. Parking on the lower parking deck of City Hall is reserved for those with ADA stickers. Click here to view a parking map.
Patrons are allowed to bring in their own food and drinks both alcoholic and non-alcoholic. Glass is not allowed in the venue and coolers must be no larger than 15x10x14. Concessions and food from our downtown restaurants are available for purchase.
Dawn P. Gober Community Plaza
Named after a very involved, life-long resident of Sugar Hill, the Dawn P. Gober Community Plaza provides a large, open area for community events. In the winter, the Ice Rink at Sugar Hill is installed on top of the turf.
Splash Park at Sugar Hill
The Splash Park at Sugar Hill is open from April to September. Splash Park sees over 4,000 people each year and it has become a staple in Downtown Sugar Hill.
* The Splash Park is closed during concerts at The Bowl.