Sugar Hill Live On Stage Presents: Melissa Etheridge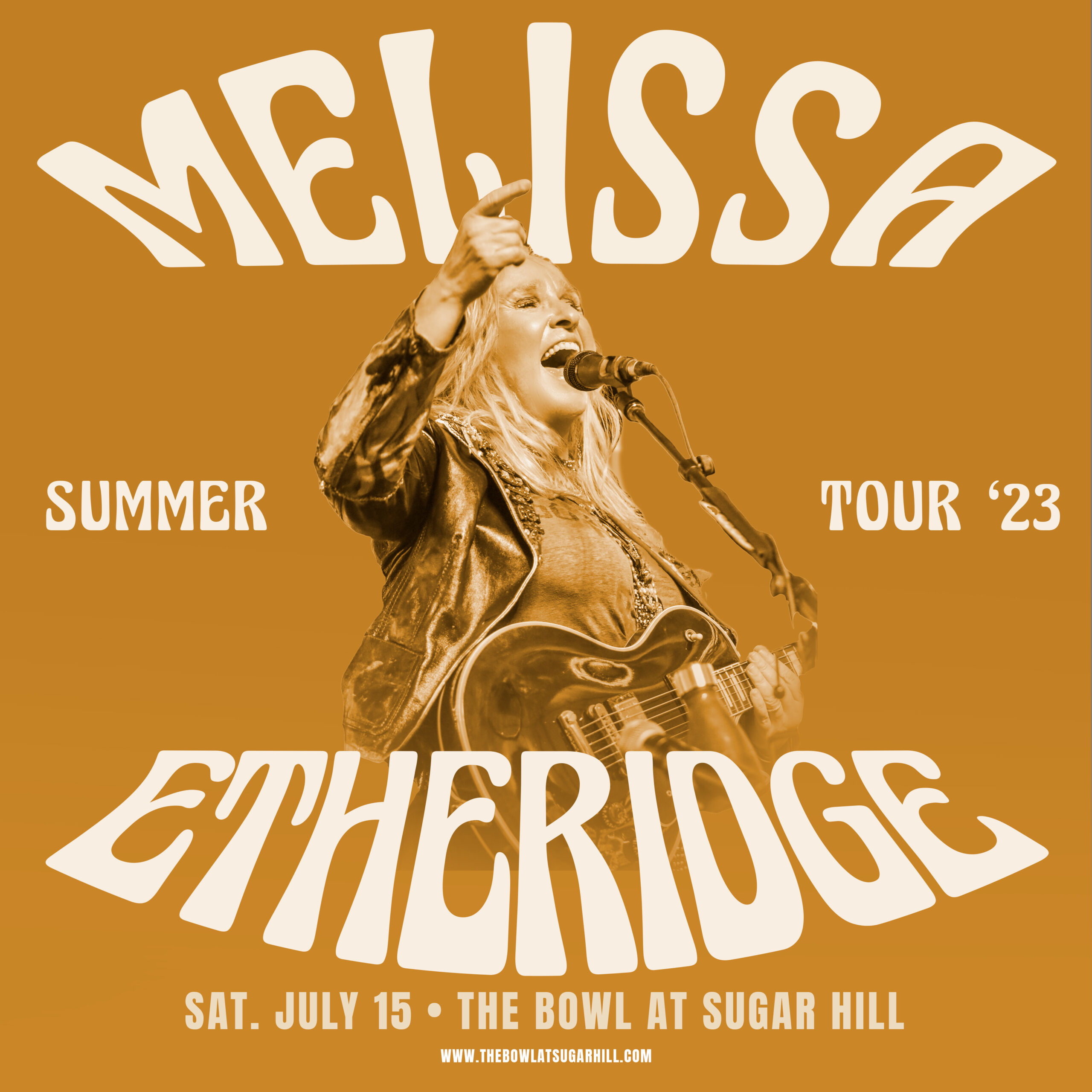 DOORS TO THIS EVENT OPEN AT 7:00 PM
Don't be the ONLY ONE to miss Melissa Etheridge at the Bowl on July 15! Get ready for an electrifying experience as Melissa Etheridge takes the stage. Grab your tickets on Thursday, April 6 and get ready for an unforgettable night of music and fun!
Melissa Etheridge stormed onto the American rock scene in 1988 with the release of her critically acclaimed self-titled debut album, which led to an appearance on the 1989 Grammy Awards show. For several years, her popularity grew around such memorable originals as "Bring Me Some Water," "No Souvenirs" and "Ain't It Heavy," for which she won a Grammy® in 1992. Etheridge hit her commercial and artistic stride with her fourth album, Yes I Am (1993). The collection featured the massive hits, "I'm the Only One" and "Come to My Window," a searing song of longing that brought Etheridge her second Grammy® Award for Best Female Rock Performance. In 1995, Etheridge issued her highest-charting album, Your Little Secret, which was distinguished by the hit single, "I Want to Come Over." Her astounding success that year led to Etheridge receiving the Songwriter of the Year honor at the ASCAP Pop Awards in 1996.
Known for her confessional lyrics and raspy, smoky vocals, Etheridge has remained one of America's favorite female singer-songwriters for more than two decades. In February 2007, Melissa Etheridge celebrated a career milestone with a victory in the "Best Song" category at the Academy® Awards for "I Need to Wake Up," written for the Al Gore documentary on global warming, An Inconvenient Truth. As a performer and songwriter, Etheridge has shown herself to be an artist who has never allowed "inconvenient truths" to keep her down.
EVENT DETAILS
7/15/23
Doors open at 7:00 pm
Join Melissa's Fan Club JOIN
For general questions about the Etheridge Nation Fan Club or Photo Op Upgrades please contact her customer support team at help@please.co
LIMITED Fan Club Pre-Sale 4/4/23 at 12 pm Get Tickets
Subscriber Pre-sale 4/6/23 at 10 am Get Tickets
Subscribe Here Fill Out Form
PURCHASE TICKETS 4/6/23 at 12 pm Get Tickets