Preservation Hall Jazz Band & Tank and the Bangas with special guest Sweet Crude
$50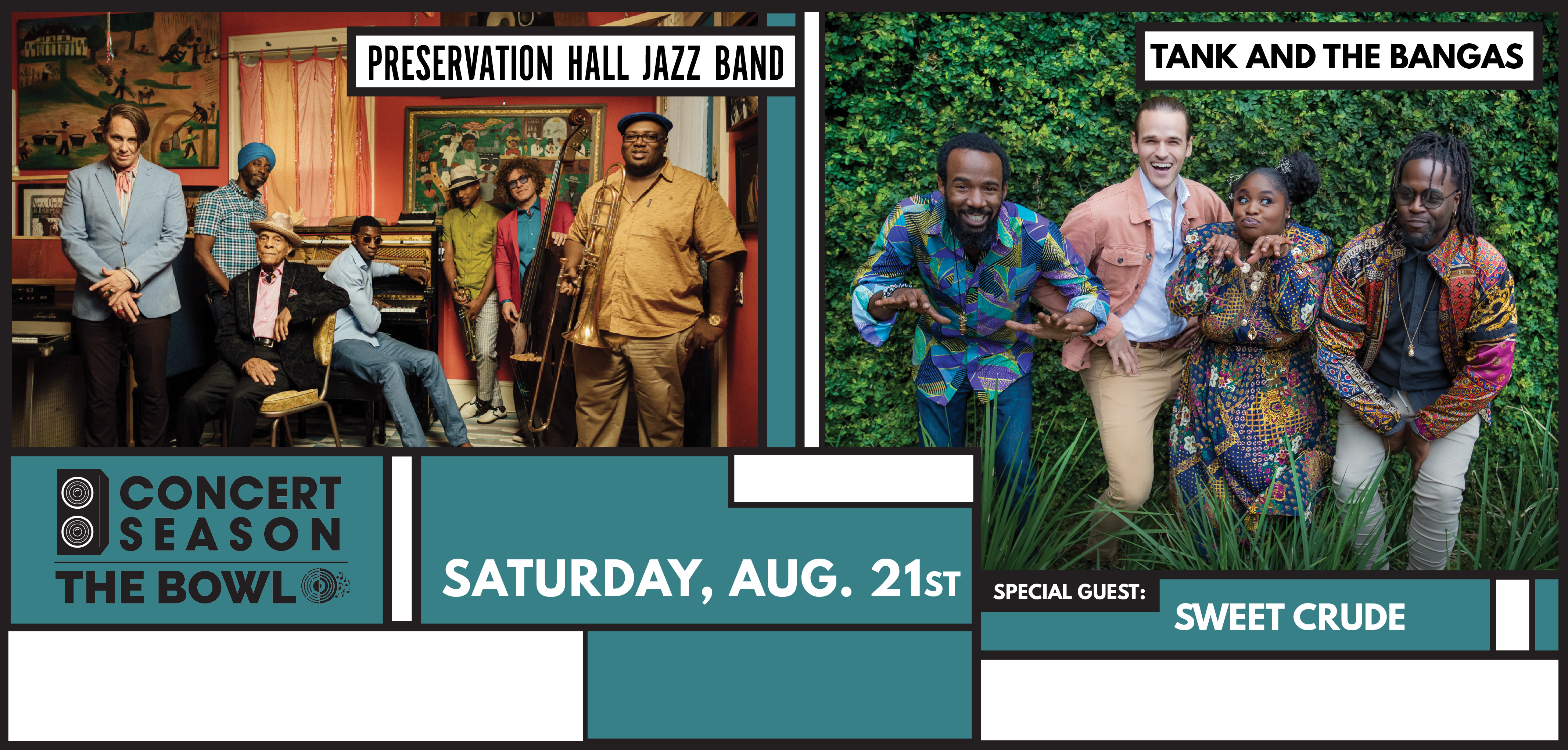 Live On Stage at The Bowl 8/21/21!
New Orleans has been the point at which sounds and cultures from around the world converge, mingle, and resurface, transformed by the Crescent City's inimitable spirit and joie de vivre. Nowhere is that idea more vividly embodied than in the Preservation Hall Jazz Band, which has held the torch of New Orleans music aloft for more than 50 years, all the while carrying it enthusiastically forward as a reminder that the history they were founded to preserve is a vibrantly living history. PHJB have shared festival stages from Coachella to Newport, including legends like Stevie Wonder, Elvis Costello and the Grateful Dead and modern giants like My Morning Jacket, Arcade Fire and the Black Keys. The critically acclaimed 2019 documentary A Tuba to Cuba documented the band's journey as they explored the links that connect New Orleans and Cuba so indelibly. The resulting collection of songs is what Jaffe describes as "a beautiful conversation." The music of A Tuba to Cuba is an ecstatic expression of that ongoing conversation, a restless and lush trip up and down strange FM wavelengths bridging thousands of miles and hundreds of years, where all involved are talking with each other and over each other in excitement, charged with the thrill of recognition of the evidence of their shared familial roots, an undeniable kinship rooted in bloodlines, rhythm, and melody.
Joined by PHJB is Tank and the Bangas. They are a beacon of life. And it's that life that you hear in their music. That's what makes this fivepiece one of the most thrilling, unpredictable and sonically diverse bands on the planet; a unit where jazz meets hip-hop, soul meets rock, and funk is the beating heart of everything they do. Their new album Green Balloon is on the horizon, and it's their first release now they're signed to major label Verve Forecast – a deal that came after they won NPR's Tiny Desk Contest in 2017, beating out hundreds of other acts. Despite their newfound global focus, Tank and The Bangas remain a New Orleans band at heart. New Orleans is a lawless place for creatives – there are no rules. "You don't need to do a certain type of music to be connected to New Orleans," says Tank. "It's in the culture, it's in the people, it's in the fact that we can all find so many common things in the streets." Their mixture of rock, funk, soul and hip-hop is unlike anything else in the ether right now.
Get Tickets
Doors open at 6:00 pm
Sweet Crude @ 6:45pm
Tank & the Bangas @ 7:45pm
Preservation Hall Jazz Band @ 9pm