Bret Michaels Nothin But A Good Vibe Tour 2022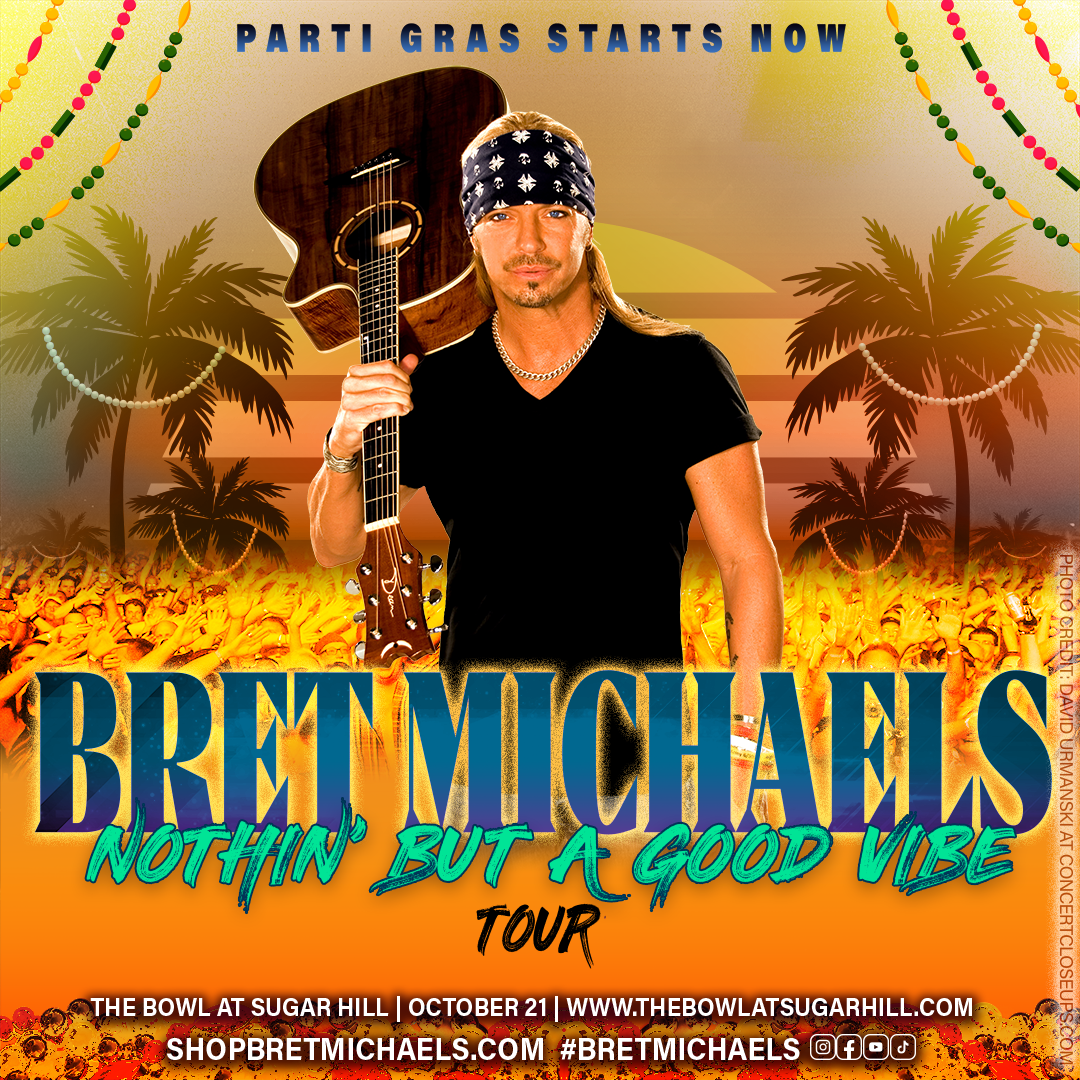 Bret Michaels' Nothin' But A Good Vibe Tour 2022 Coming to The Bowl on October 21
Bret Michaels in Sugar Hill? That's right! He's performing at The Bowl on October 21 and bringing all the good vibes with him. We can't wait for you to join us as we rock out in Sugar Hill with Bret Michaels on his Nothin' But A Good Vibe Tour 2022. Purchase tickets today on The Bowl's website!
Bret Michaels is a multiplatinum global superstar who has turned his passion for music into a multi-faceted brand that encompasses record-breaking touring sales, Reality TV stardom, legendary songs that have sold over 32 million records, product endorsements as well as being a devoted philanthropist, all supported and followed by three generations of loyal fans.
Bret was born in the small town of Butler PA on March 15, 1963. Rising to fame as the front man of Poison, one of rock's most iconic and enduring bands, he helped define the rock n roll scene on the Sunset Strip. Their massive success includes selling over 30 million records worldwide and numerous hit singles. Equally as successful, Bret's solo career has charted its own course with multiple solo albums. His last album, Custom Built, topped the charts, reaching #1 on Billboards Hard Rock list. His new cd Bret Michaels: Good Songs and Great Friends is set to be released in June of this year and features a myriad of legendary artists, who just happen to be great friends of Bret's. The album contributors is a who's who list including Joe Perry (Aerosmith) Loretta Lynn, Jimmy Buffett, Ace Frehely (Kiss), Michael Anthony (Van Halen) and members of Lynyrd Skynyrd, to name a few.  www.bretmichaels.com
Sugar Hill has earned a reputation for bringing a variety of musical genres that appeal to every audience, young and old, to The Bowl and the Eagle Theatre through our concert series, Sugar Hill Live On Stage. Located in Downtown Sugar Hill, concert goers have all the amenities the city has to offer within a few footsteps including restaurants, shops, a history museum, art gallery, The Eagle Theatre and more.
You'll find a spot for your vehicle on the upper deck of City Hall*, the lower deck under the Eagle Theatre, along W. Broad Street and Hillcrest and surrounding areas. *Parking on the deck below City Hall is reserved for those with ADA stickers.
Patrons are allowed to bring in their own food and drinks both alcoholic and non-alcoholic. Glass is not allowed in the venue and coolers must be able to fit under your seat. Concession stands and local restaurants are available for purchase.
Doors at 7:00pm